Home renovations are on the horizon as the New Year approaches. Perhaps the new year needs a fresh start, and your home needs to be updated. The room's ceiling, which constitutes the fifth wall, is a frequently overlooked space. But paying attention to it when designing the area can help it stand out and give your design a distinctive flavor. A false ceiling is a simple method to give the space a lovely aesthetic accent. A fitted ceiling that is suspended below the real ceiling is called a false ceiling. Frequently, the false ceiling design allows for the original ceiling to be seen. There are countless design options; you can choose between classic and modern designs. Additionally, it can conceal unattractive ac vents and provide as a background for decorative light fittings. Compared to a naked ceiling, it can offer a space a polished and elegant appearance. Practically any room can benefit from the addition of a false ceiling; options include adding a stylish lattice pattern to the living room or a playful accent to the kids' room. Office buildings frequently use false ceilings to cover pipes and wires. In the past, artificial ceilings were constructed using fragile materials that weren't at all sturdy, such cardboard and cork. However, there are currently far better alternatives. Gypsum is one such substance.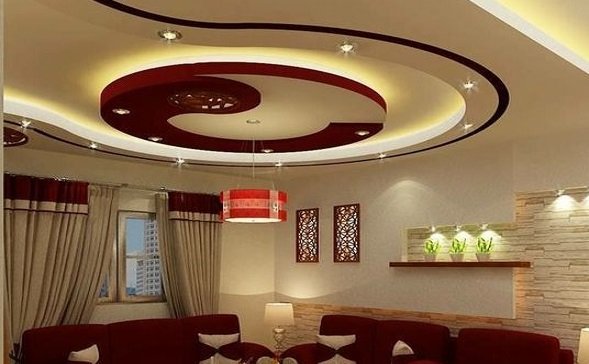 Gypsum is a white, powdered substance that resembles chalk. It is extracted from deposits of sedimentary rocks. It is calcium sulphate dihydrate chemically (CaSO4:2H2O). Over the past few centuries, it has been widely utilised for plastering walls and creating sculptures. Although it has a compressive strength similar to cement, it also has the benefit of being much lighter. Despite being an ancient mineral that has been used in ancient sculptures, it is not frequently employed in building. It is becoming more popular once again as a drywall and false ceiling material. Ingenious methods have been discovered to turn gypsum into premium building supplies.
Why is Gypsum the #1 material for false ceilings?
Shrinkage and cracking in cement are common occurrences. In contrast to gypsum, it needs to be cured in order to prevent cracks. In fact, even after curing, cement plaster may still break. Gypsum's compressive strength, which ranges from 5-7 MPa, is comparable to cement plaster's compressive strength, which ranges from 3.5 to 7.5 MPa. Gypsum has tensile strength as well as compression resistance at this same level of compressive strength, allowing it to endure both pulling and compression forces. Gypsum boards are not brittle and are therefore unlikely to break because they are soft. Gypsum resists seepage damage as well since it does not distort like wood does in wet environments..
High Temperature / Thermal Insulation
Gypsum offers thermal insulation and can aid in energy conservation. It will help you keep a cool environment so that air conditioning works better. Similar to how it will trap heat if the room is heated, resulting in energy savings. Additionally, insulation will be given by the additional layer of air that a false ceiling will trap between itself and the real ceiling. Air is a great insulator, therefore it requires less cooling and heating when there is better insulation. This can result in significant energy savings, particularly in regions with frequent severe temperatures.
Although wood and cork have historically been used for artificial ceilings, their obvious drawback is that they provide little safety in the event of a fire. Gypsum acts as a barrier to stifle fire because it contains water in its crystal structure. Gypsum will only lose the water from its crystals when it comes into contact with flames; this water will then escape as steam.  For example, Our FRMR boards which are treated to be both fire and moisture-proof, are among the numerous gypsum boards that are also treated to become particularly fire-resistant.
Gypsum protects steel supports imbedded in it from rust and extends their lifespan. Any pipes or electrical fixtures installed in gypsum plaster won't corrode. Any kind of metallic supports can be used with it without risk. The majority of gypsum boards only absorb 5% of moisture; this low level of water ensures that the metal won't rust.
Light Weight, Sturdy and Flexible
POP and cement plaster are substantially heavier than gypsum. In addition, where a much thicker layer of cement would have been required (>10mm), a thin layer of gypsum plaster is needed (6mm). It requires less upkeep and is as strong as cement. Gypsum boards are flexible and simple to reshape into any desired design. It can be sculpted practically like plastic, but it is far more environmentally friendly. Additionally, they equally reflect light, providing a well-lit façade for the false ceiling. It has an even finish and doesn't need to be polished more. Gypsum false ceilings that are built well can easily last 20 years or longer.
Compared to cement plaster, gypsum boards take less energy to make. In addition, less CO2 is produced during manufacture than would be produced by an equivalent amount of cement. Gypsum boards may also be totally recycled, whereas POP cannot. It is extracted from the earth through mining, but because it is abundant, the mining process is less harmful than that for many other minerals of a like composition. As a result, gypsum is far less harmful to the environment than the alternatives.
Versatile and Comes in many Designs
False ceilings made of gypsum are now offered in a variety of styles. Finding personalised alternatives that complement your house and style is simple. They are reasonably priced and simple to install; instead of being fastened with nails, they can just be glued in. It is unlikely to need repair, but if it does, it is usually relatively simple to do so. Given that gypsum boards come in a variety of colours, it can blend in with whatever paint finish that your original ceiling may have had. They can support recessed light fixtures and conceal unsightly wiring.
In short, False ceilings are still a popular design choice, and gypsum plaster and boards are also popular building materials. False ceilings add aesthetic value to a space while also insulating it from the heat and noise. With a custom-designed gypsum ceiling, you can distinguish your space while saving money on heating and cooling costs. It will give a stylish room the extra pizazz it requires. If you have high-walled rooms that could benefit from an additional light source, it can be very transformative. Additionally, the false ceiling will reduce echoing, which can occasionally occur in rooms with high walls. Due to its moisture resistance and insulation, it provides solutions to many issues. So go ahead and use Hari Interiors to make your ideas come to life!